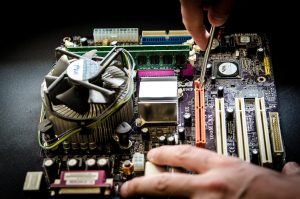 If your PC or laptop is feeling a bit under the weather, needing upgraded, has caught a virus or two, or generally not behaving as it should, drop it off with us to  help it on the road to recovery.
How the Drop off clinic works:-
Bring your PC or laptop to the Shop at Aird Donald Caravan Park and leave it with a staff member. Please include a typed letter containing Name & Address for billing purposes & a contact  Telephone number ( landline and/or mobile ).
You PC will be examined and tested based on your letter. If I require further details or its needing parts replaced you will be contacted before any further work is carried out. If no parts or info is required you will be contacted with the billing amount ( payable on collection ) after the work is completed. Please allow a minimum of  48 hours for each job. If its going to take longer, you will be contacted.
If you would prefer a Home visit, it can be arranged in advance for evenings or weekends. Please phone to make arrangements. This service is only available within Stranraer.
PLEASE NOTE:- For internet connection  problems, its best the PC is first checked while connected to your own home network or internet connection.
If you live outwith the Stranraer area, this service is  now available as a "Postal" service. You can send your PC/Laptop to us to have the work carried out. Your PC/Laptop will be returned to you by courier after payment. Payment can be made via Credit card over the phone ( using Paypal ) or through Paypal in an email or cash request. An additional  fee for the return postage will be added.
Please include  clear and full contact details including return postal address and of course a note of the fault with your computer.
Labor charges:-
Standard rate is £20.00 / hour , minimum fee is 1 hour.
If your Computer is in my workshop, you only pay for the time I'm sitting at it. If its a Home visit the fee is based on my time spent in your premises.
Upgrades:-
If you want your PC Upgraded, you can ether supply the parts yourself, or I can quote you for a Parts & Labor deal. If you supply the parts, the standard labor charge applies. If I supply the parts, your PC will need to be checked to ensure compatible parts are ordered before ordering.
Parts can be ordered from me for self install jobs. Parts ordered this way are non returnable  or refundable if they are faulty or incompatible.
Payment Info:-
Please make payment by cash or cheque, credit cards are not accepted.
Cheques to be made out to  Casstek.